Why Choose Us as your Employment Solicitors?
At Hussey Fraser our team of employment lawyers provide specialist legal advice on all aspects of the employment relationship. In an area of law that is constantly changing and evolving, it is critical that employees avail of advice that is relevant and up to date. Hussey Fraser will assess your claim quickly and efficiently. We will provide an early appointment for a consultation and guarantee that your enquiry will be dealt with in confidence by an experienced employment lawyer.
Hussey Fraser Solicitors has been awarded numerous professional accolades over many years. We have been recognised with a premier listing by both The Legal 500 and Chambers, who evaluate law firms worldwide. We also enjoy a Gold Standard Award from Outsource Quality Management for the systems that we have introduced. Our clients can, therefore, be reassured of our commitment to delivering professional, high quality legal services.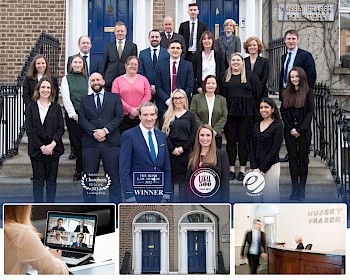 Our team of specialist Employment Law Solicitors have decades of legal experience, acting successfully for hundreds of employment clients. You will receive excellent service and quality legal advice from a committed and dedicated legal representative.
Our goal, in all cases, is to provide robust representation, achieve practical solutions and obtain the best possible outcome, including, where appropriate, compensation.